BLIND THRUST – A JOE HIGHEAGLE NOVEL BOOK 1
#1 DENVER POST BESTSELLER (FICTION) AND AWARD-WINNING FINALIST USA BEST BOOK AWARDS (FICTION: THRILLER-ADVENTURE)
BY SAMUEL MARQUIS
#1 BESTSELLING AND AWARD-WINNING AUTHOR
Samuel Marquis's second suspense novel, Blind Thrust, recently hit #1 on the Denver Post Bestseller List for Fiction and was an Award-Winning Finalist in the Fiction: Thriller/Adventure category of the 2015 USA Best Book Awards. The first book of the Joe Higheagle Environmental Sleuth Series is a fracking and earthquake tale that features the author's Cheyenne hydrogeologist alter-ego Joe Higheagle and his curmudgeonly grandfather, Chief John Higheagle. The Colorado thriller has been getting 4- to 5-star reviews from professional book reviewers and readers across the country.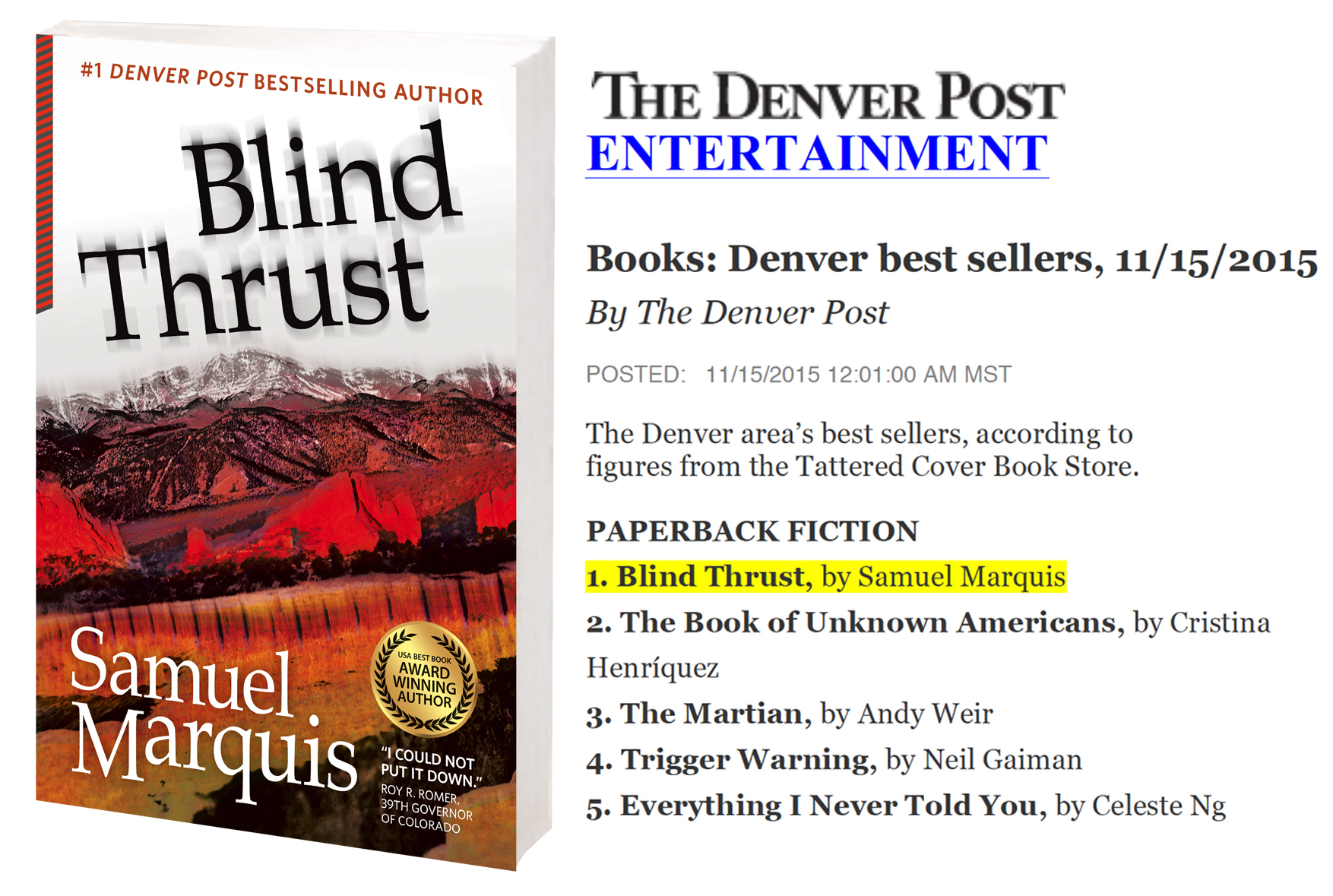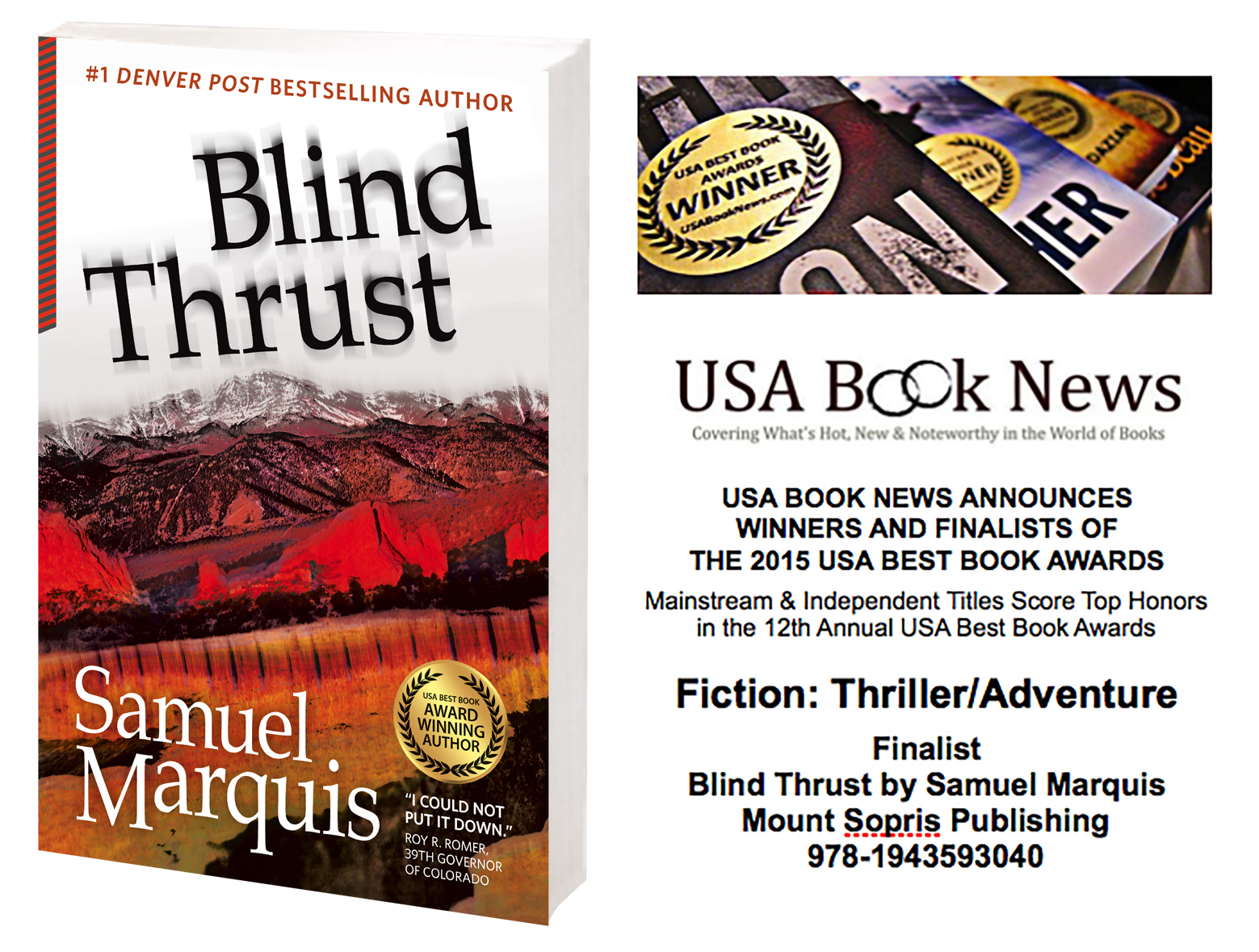 Here are summaries of some of the reviews, including one from former Colorado Governor Roy Romer:
"Blind Thrust kept me up until 1 a.m. two nights in a row. I could not put it down. An intriguing mystery that intertwined geology, fracking, and places in Colorado that I know well. Great fun." Roy Romer, 39th Governor of Colorado
"Samuel Marquis's earth-shattering thriller, Blind Thrust, excels at making a mystery story, with geology as background, an exciting yarn. With believable, intelligent characters, there is a fine thriller on these pages that could shake things up." Foreword Reviews – Four Stars (****)
"Blind Thrust is a page-turning adventure that will hold its audience with the attention to detail only a really well-researched author can bring to the table. The science of earthquakes is fascinating, and Marquis has captured this science and packaged it into a really fine thriller 'against the clock' style for almost anyone to pick up and enjoy, and readers will no doubt want more from Higheagle and his intrepid grandfather once they have devoured this installment." Self-Publishing Review – Four Stars (****)
"Blind Thrust makes good use of Marquis' background as a professional geologist. It is the novel's characters, however, that really stand out. Charles Quantrill is far from a cardboard villain, and as for the heroes, Joe and John Higheagle have a particularly endearing rapport. For suspense fans who enjoy science mixed with their thrills, the novel offers page-turning pleasures." BlueInk Review
"Blind Thrust spins a thrilling tale of what can happen when humans mess with Mother Nature. For those interested in earthquakes or environmental issues, Marquis has created an action-packed novel filled with danger and conflict." IndieReader Book Review
Pick up a copy today if you want to learn more about fracking, earthquakes, and an inside look into the environmental industry. The book is available at Amazon, Tattered Cover and other independent bookstores, Indiebound, Barnes and Noble, Kobo, iTunes, Books-a-Million, and other print and ebook outlets. Grab it while it's hot!